A few weeks ago I found myself without Tylenol in the house. I might have panicked a bit, but luckily I was able to stop into my Walgreens on Market Street in Rockland and quickly pick some up. It was such a relief to be able to go somewhere close to home and know they would have what I needed in stock so I could get in and out quickly.

During the pandemic, I have been encouraging my kids to look for the helpers, like the beloved Mr. Rogers used to say his mom told him to do during difficult times as a child. Helpers are everywhere if we just look and I am so grateful to the helpers at my Walgreens who are keeping our community safe with access to medicine, health care needs, hygiene items, baby care products, and more during this difficult time. From the warehouse employees who make sure the local stores have the inventory they need to the pharmacists and pharmacy techs who fill our prescriptions to the cashiers whose smiles mean the world right now.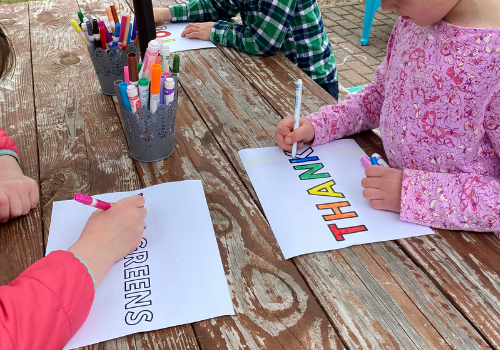 For as hard as the pandemic is on adults it is just as hard on our kids. Their lives have been flipped upside down. They aren't in school with their teachers and friends, they aren't able to participate in their regular activities, they can't visit relatives, vacations have been canceled, birthdays downsized and in their intuitive inquisitive nature, they know something is wrong and they just want to help. I have been encouraging my kids to look for the helpers too but to take it a step further and thank the helpers. We sent a meal to a friend on the front lines, shared snacks with our essential employee family member, and today we wrote a note and made a short video to thank the staff at our local Walgreens for all they are doing to keep us healthy and safe.
Find your closest Walgreens location and learn about their online care services by clicking HERE.
Macaroni Kid is proud to partner with Walgreens for this campaign to thank their team members for continuing to stay open so we can care for our families. The author has been compensated for their time.